Collection: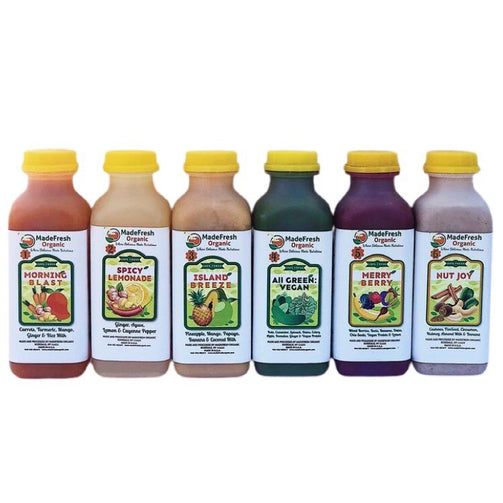 Collection:
5 DAY
5 DAY
Regular price

Sale price

$210.00
OVERVIEW

Our 5-day cleanse is constructed with more than enough nutrients, vitamins, and minerals to not only rid the body of toxins but to reboot your system. Each day for 5 days you will enjoy a mixture of green juices and smoothies packed with fresh and organic fruits and vegetables. 
CLEANSE RECOMMENDATION 
This pack contains an assortment of 30 juices and smoothies of 16 fl oz each. All our products are vegan, gluten-free, and dairy-free:
All Green: Vegan
Island Breeze
Make it Green
Merry Berry
Morning Blast
Spicy Lemonade
CLEANSE INSTRUCTION
Place your juices in the refrigerator immediately if you doing a 5 Day Cleanse, place your last three bundles in the freezer, our juice has a refrigeration shelf of up to 5 days.
 You should start your cleanse the day after delivery.
THAWING INSTRUCTING
For frozen bundles leave out overnight at room temperature, to be ready in the morning. Do not thaw in the refrigerator. Repeat for each day. Separation is natural. Refrigerate at all times, shake well before drinking.

EXERCISE 

Exercise is normal during cleansing if your body feels up to it.
WHAT TO EAT

The goal of cleansing is to detox your body to gain energy and to lose weight. You may consume 
g
reen veggies salads, fruits, egg whites, coffee, or tea.
AFTER CLEANSE 
Include lots of greens in your diets such as salads, soups, and grains.
REFRIGERATE IMMEDIATELY
Your cleanse will last up to 5 days refrigerated, can last up to 2 weeks frozen.